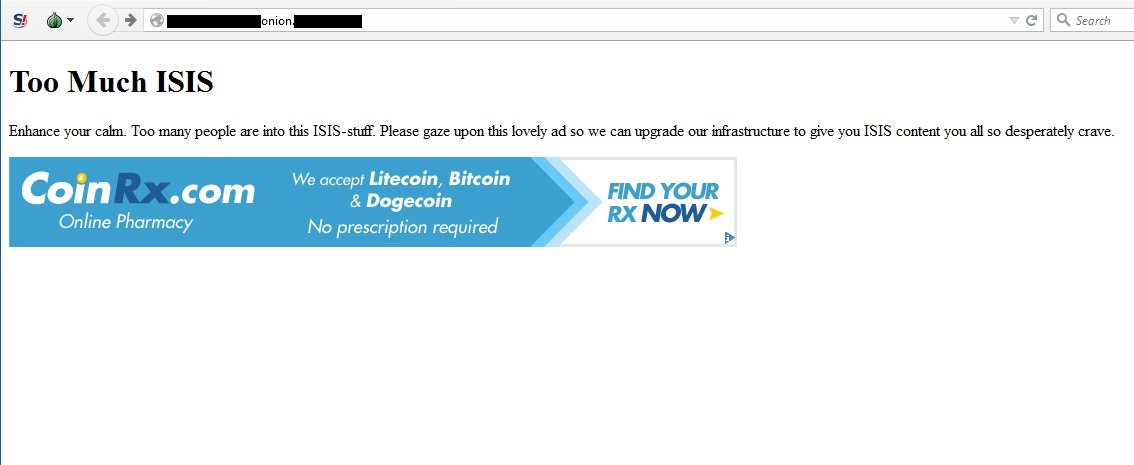 If you had missed out the Action Between ongoing war cyber war between anonymous and ISIS(Islamic state)
Read This: Complete details of war between Anonymous and ISIS
ISIS sites have been moving onto the dark web in an attempt not to be discovered. But a hacking group called Ghost Sec, which is related to Anonymous, took the site down and replaced it with a message telling readers that there was "Too Much ISIS."
"Enhance your calm," the full message read. "Too many people are into this ISIS-stuff. Please gaze upon this lovely ad so we can upgrade our infrastructure to give you ISIS content you all so desperately crave."
The ad — which linked to an online pharmacy where payments can be made in bitcoin, and which appears to be hosted by the hacking group — would allow people to click through to by online prescription drugs, including Prozac and Viagra.
In the wake of the Paris terror attacks, the hacker collective Anonymous has vowed to wage a digital war against the Islamic State terror group.
The message that's now on the site reads, "Too Much ISIS. Enhance your calm. Too many people are into this ISIS-stuff. Please gaze upon this lovely ad so we can upgrade our infrastructure to give you ISIS content you all so desperately crave."
Whether or not tonight's hack falls under the "massive cyber attacks" that Anonymous promised or not is unknown, but it's definitely pretty funny and probably extremely embarrassing/infuriating for ISIS.
Here's what the site looked like before, and after, via The Daily Mail: