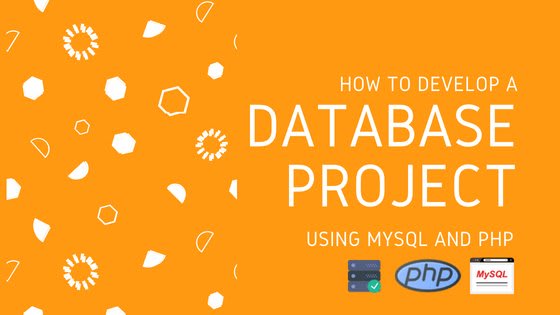 In this blog, you will be learning all the steps needed to develop a database management project using PHP and Mysql and create your own project easily.
Creating a database management project is not a difficult task if you know the basics of using your computer then I can help you to create your project with easy steps.
What is a database management project?
A database management project or a DBMS project is given to you as an engineering mini project in your colleges.
Database management system is creating a database for your required topic such as a student management database which contains all the details about students in a particular college which contains students ID, name, address, phone number, department and it can be retrieved whenever needed, which can make searching information about a particular student easily.
Where you need to create a Database for that particular topic and also create a front-end HTML page to display and update all the information to the database in MySQL.
Which are the languages you need to know before getting started?
Before starting the project you need to be knowing the basic usage of computer and you need to learn languages like SQL (Structured query language) which is used to create a database and HTML-PHP to create a front-end webpage.
You don't need to learn this languages in advance but you just need to learn few basic about this languages.
Where you can learn PHP by clicking here https://www.w3schools.com/php/default.asp  
These is the best website to learn php..
You need to know this basic concept how your MySql database and PHP page will be connected.
To connect a database with an HTML PHP page you need a server as shown the below figure.
Where in the above figure you can see a web server is connecting both the database and the web browser PHP page.
Now we need to figure out how to create a server and connect both database and web page.
What is a server ?
A server is a computer or computer program which manages access to a centralized resource or service in a network.
And you may have got some idea about what is a server and we have got many open source servers programs that you can install on your computer(PC).
The server that is available to us is Apache Tomcat server, which we will be using later in our project.
How to install Server ?
Installing a server in your computer is not a big challenge, you just need to install WAMP server.
Click here to Download WAMP server which is an open source  http://www.wampserver.com/en/
Step 1: Click on the above link and select the version you want to download either 64 bit or 32 bit.
Step 2: Click the wampserver.exe file and install the program on your PC.
This is the dashboard of wamp server, you can open it by typing localhost:8080  in your browser to open this page.
There is an advantage of using wamp server i.e you don't need to install any Database program separately. Where wamp server has got Mysql inbuilt in it.
Type http://localhost/phpmyadmin/ you can view the Mysql database page where you create a New database, tables and enter values.
This is the phpMyAdmin page where you need to log into the page by typing username : root and password : <Leave it blank> 
Where this is the database interface to manage your database.
The part of creating server and database is finally got over and now we need a editor to edit our html and php pages.
We will be downloading a editor named Bracket which makes developing web pages easier then ever like Eclipse IDE that we used develop java programs.
Steps to download Brackets Editor
Click the link to go to the download page:  Bracket software download
Click the link and install the software in your PC 
This is how the brackets editor looks like by this we can develop our front-end webpage using HTML and PHP.
These are the starting things that you need have before you start developing your Database management project.
Conclusion
I hope that you liked this blog for creating your own database project. Where I have listed out the basic components that you need to have before starting your project development.
And in the upcoming Blogs, we will start developing our project.
If you like my blog and helped you, then share it with your friends.