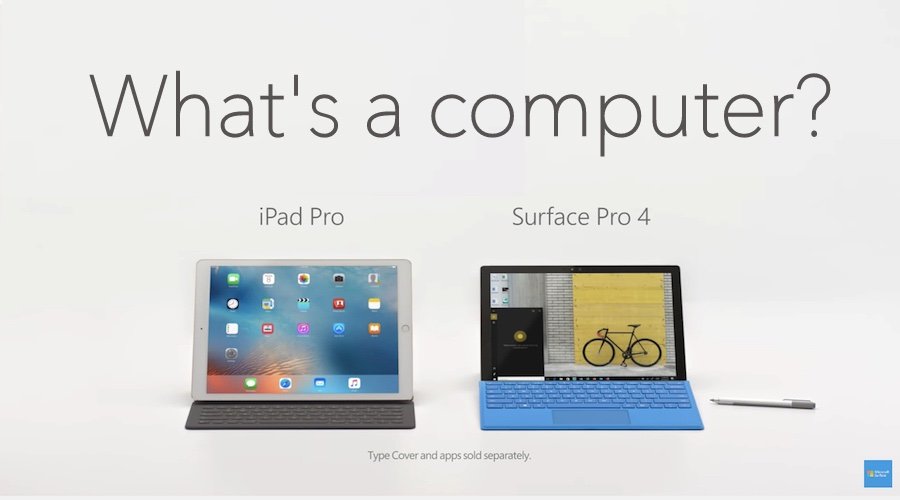 Microsoft Makes fun of Apple Ipad Pro
Microsoft recently released ad makes fun of Apple Ipad pro "What is a Computer Just ask Cortana"
Ipad pro
The power of a PC. And the power to go beyond it. iPad Pro is powerful enough to easily take on tasks once reserved for PCs. And many you could never do on a PC. With just a touch, swipe or jot, you can write, email, surf, scan, render, design, redesign and do pretty much anything you need to.
In a
new advertisement, Microsoft has made fun of Apple's claim that iPad Pro is a real computer. Microsoft called Apple out on iPad Pro's incompetence to run desktop apps and support USB devices. Looking at the devices offered by both the companies, at the moment, Microsoft Surface looks like a better "computer".
Siri just wants to have fun! It's true: after far too long, the iPad is grown up, with a proper keyboard accessory. But as everyone noticed when the iPad Pro first launched, it's a very similar device to the Surface 4, with a fabric keyboard cover, 13-inch screen, and optional stylus. (I refuse to call it a Pencil. Fight me.)
And yes, the Surface might be running full-fat Windows apps, but the interface is also much less touch-friendly than the iPad. You only need a trackpad on the Surface because the user interface demands it, and Microsoft making fun of the Office apps sounds a bit desperate to me.