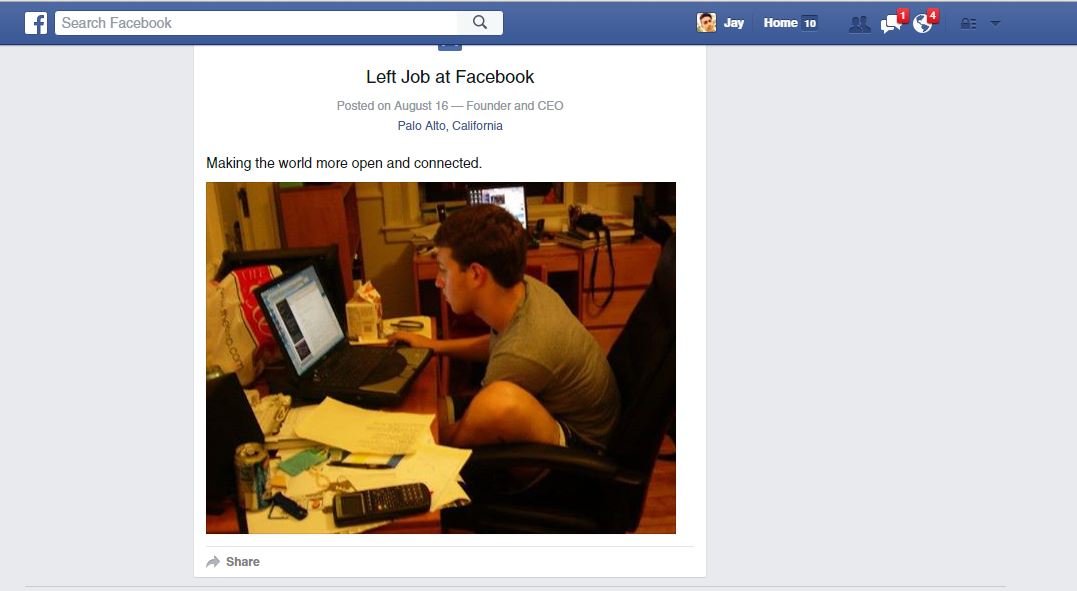 Yes, you heard it right.
 Mark Zuckerberghas left his job at Facebook. Don't believe me? I can prove it to you.
Mark Elliot Zuckerberg (born May 14, 1984) is an American computer programmer and Internet entrepreneur. He is best known as one of five co-founders of the social networking website Facebook. Zuckerberg is the chairman and chief executive of Facebook, Inc. His personal wealth, as of October 2015, is estimated to be $44.6 billion. Zuckerberg receives a one-dollar salary as CEO of Facebook.
Together with his college roommates and fellow Harvard University students Eduardo Saverin, Andrew McCollum, Dustin Moskovitz, and Chris Hughes, he launched Facebook from Harvard University's dormitory rooms. The group then introduced Facebook onto other campuses nationwide and moved to Palo Alto, California shortly afterwards. In 2007, at the age of 23, Zuckerberg became a billionaire as a result of Facebook's success. The number of Facebook users worldwide reached a total of one billion in 2012. Zuckerberg was involved in various legal disputes that were initiated by others in the group, who claimed a share of the company based upon their involvement during the development phase of Facebook.
Since 2010, Time magazine has named Zuckerberg among the 100 wealthiest and most influential people in the world as a part of its Person of the Year distinction. In 2011, Zuckerberg ranked first on the list of the "Most Influential Jews in the World" by The Jerusalem Post. Zuckerberg was played by actor Jesse Eisenberg in the 2010 film The Social Network, in which the rise of Facebook is portrayed.
But why did Mark zuckerberg left the job in facebook.
This is weird, Isn't it?
But, don't be surprised or shocked, because what you just saw was only an illusion.
This is actually a minor bug in the popular social media website that allows anyone to manipulate the life event of any user who has his work status posted on Facebook.