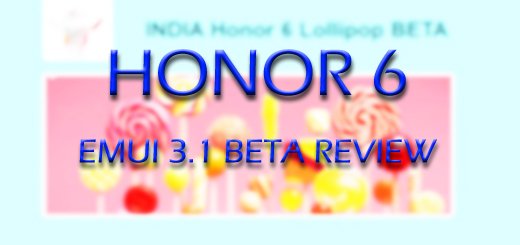 Short review about EMUI 3.1 Lollipop Beta 506 ROM & bug fix.

Huawei India recently released Lollipop 5.1.1 beta test firmware with EMUI 3.1.
Change logs and Features of EMUI 3.1
System:
Improved the app startup performance. Android now runs exclusively on the new ART runtime.

Improved Wi-Fi experience.

Setting UI layout changed.

Battery performance is improved.
Home screen
Added the function to sort the shortcut switches in the notification panel, enabling users to customize thier shortcut switches.

Optimized the background and font color of the notification panel.

Optimized the display effect of the shortcut switches in the notification panel..

Optimized the notification management.

Added the mini screen view. users can swipe left or right on the Home key to enable this view, or swipe in the opposite direction or touch any blank area to exit this view.

Added more options in home screen editing. Now users can auto align the apps and set the permission to which system app should show batch notifications.

Added options to hide Application from home screen. Just pinch out the screen using two fingers and add the apps.

Now users can locate the apps by tapping locate icon on the search screen by just Swipe down on middle of the home screen and search for apps.
Camera:
Added time-lapse mode so users can create an accelerated video of a slow-changing scene.

Added Supernight mode so users can shoot better picture on low light conditions and night time.
Gallery
Added the mosaic and graffiti features to let users edit their pictures in a more innovative way.

Added Map view options to group the images based on location where the image taken in real time view.
Lock screen
Added a lock screen notification feature to let users check new notifications without unlocking their phone.

Magazine unlock settings are changed and we now users can add their favorite images to the magazine unlock covers.
Pros:
System performance is increased.

Battery performance is increased than EMUI 3.0

Minor app layout changes in Settings, smart controller and file manager.

Mini screen view helps the user to operate in single hand mode.

Time-lapse and Supernight modes are good options in camera.

Now users can add their favorite images to magazine unlock covers.

Wi-Fi+ option automatically switch between mobile data and Wi-Fi to provide a smooth internet experience. When known Wi-Fi network in range and connects it.

Users can enable network their speed from display settings.
Cons:

Data limit option is missing, so users cannot set their monthly data limit.

System lags and heats much, Theme and gallery apps missing if users installed the ROM thru Local update.

SMART CONTROLLER app is missing after installing ROM. Tried with both local and force update methods. Needs to fix manually.

No Indian language support other than Hindi. So users cannot use handwriting input option in Google keyboard.

Hiding NAV BAR icons option is missing from the settings.

None of the Screen off Gestures is working in Motion control options.

Ambient light sensor is not working properly, it's taking few seconds to detect the light level while on caller screen or unlocking in low light and bright light environment.

Contacts name not shown on whatsapp some times after restart- need to refresh manually on whatsapp contacts.
Fixes:
1.

To enable set data limit:



Install Activity launcher from play store. Open the activity launcher and select all activites on top left corner.

Then select Settings>Data usage> set mobile data. Now users can set their monthly data usage.
2.

For System Laggs and heating:



if users felt system too laggy or heating then do factory reset or Force upgrade.

Warning: Factory reset or force upgrade will wipe internal data. So backup your personal data before proceeds those steps.
3.

To enable Smart controller:



Download and install the apps from following links.

Quickset SDK.apk: Download
Smart controller.apk: Download
4.

To enable NAV bar hide button:



Enable suspend button from settings > smart assistance>more> suspend button.

Enable touch plus and film navigation keys from settings.

Now go back to home using suspend button.

Now go to settings and disable film navigation keys and touch plus.

Now the navigation hide key should appear.
Conclusion:
Overall good update when compared with Malaysia and European lollipop beta. Especially in terms of battery performance. Few new features and some improvements introduced in EMUI 3.1. All the new features are working fine. No lag noticed and all operations are smooth if you installed ROM using force update or doing Factory reset after successful local update. Let's hope Huawei India listen the issues mentioned on CONS and will fix those things on upcoming Firmware release.
To know how to update Indian lollipop beta B506- Visit here