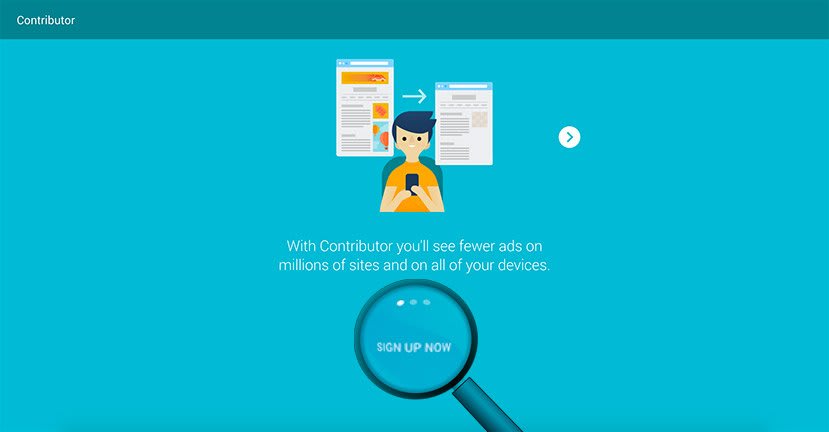 Most of the people hate seeing ads on the websites they frequently visit. Things get more annoying when the ads are in form of pop-up, blocking the content you want to read. Everybody on the internet would have been a victim to those pesky ads. Google tries to solve the problem of too many annoying advertisements with the help of Contributor.
WHAT IS CONTRIBUTOR?
You get to see fewer ads. You are helping to fund the sites you visit. You contribute a few dollars.
IS IT SPECIFIC TO PARTICULAR SITES?
No, Contributor works on millions of sites and on all of your devices and browsers. With contributor you can see fewer ads across the web. Contributor would help in seeing fewer Google Adsense ads.
WHY SHOULD I  USE CONTRIBUTOR WHEN I CAN USE AD BLOCKER?
Tech-savvy internet users might be using Ad blocker to block ads. Today most of the internet is funded by advertisements. When you use Ad blocker you are killing your favourite internet. To run websites a lot of infrastructure and manpower is needed which in turn needs money which comes from advertisements served on websites.
When you use Contributor you contribute to the survival of internet with a meagre monthly contribution.
WHAT ELSE DO I GET WHEN I USE CONTRIBUTOR?
You get to see fewer ads and a chance to help fund the people behind beautiful content that you read on the internet. Since Internet is more fun with cats there is a Meow mode which you can activate from your your account's Contributor advanced settings. Often you'll also be shown "Thank you for being a contributor" note as a gesture of appreciation instead of ads.
HOW MUCH CONTRIBUTION DO I NEED TO MAKE?
The Contributor program does not require you to make large contributions. Contributors are given a choice between $2, $5 and $10 monthly contributions. The ads which are shown to a contributor reduces as his contribution increases.
IS IT AVAILABLE IN MY COUNTRY?
Contributor is currently only available to people who have a credit card with a US billing address. Google would probably introduce this service in other countries depending on the demand. If you want to reduce the number of ads you see but are situated outside US choose your country in this form by Google to request Contributor in your country.
HOW CAN I CONTRIBUTE TO PANTOMATH?
You can use Contribute if you are situated in US. If you are situated in India you can visit our Contact us page or message us on our Facebook page.