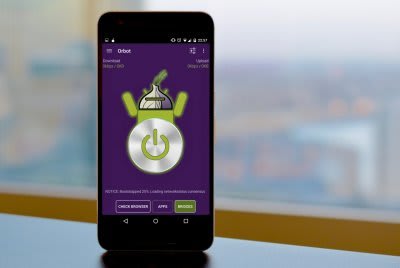 Tor Project launching new version of Tor-enabled Android phone prototype dedicated to security and privacy.
The tor browser is considered as the secured browser of all kinds.Military and secret services found the tor browser to maintain the security and privacy Most of the people use tor browsers to hide their digital footprintings Hackers take advantage of tor browser as a way to reach dark web. As soon as the tor browser had and name its now focused on android phones. Privacy activist are developing a tor based android phones.
The Tor Project recently announced the release of its prototype for a Tor-enabled smartphone—an Android phone beefed up with privacy and security in mind, and intended as equal parts opsec kung fu and a gauntlet to Google.
The new phone, designed by Tor developer Mike Perry, is based on Copperhead OS, the hardened Android distribution profiled first by Ars earlier this year.
The Tor Project is currently developing a prototype of a Tor-enabled phone that tries to improve Google's Android mobile operating system by focusing exclusively on security and privacy, due to grave concerns that Google and smartphone manufacturers that rebrand Android are not taking security threats seriously enough.
Do you think your smartphone is secured? If you do your wrong.
Android operating system hasn't been designed with privacy in mind. Instead, it was created to make things easy for third-party companies and developers. To tackle the security issue, the Tor Project, recently, announced the release of a Tor-enabled Android phone prototype

How the Tor Phone works
The Tor Phone is based on Copperhead OS, which is an Android distribution that includes numerous security enhancements in order to fix the many vulnerabilities in Android, and Tor's developers have also added an app called orWall that forces all apps to route their traffic over the Tor anonymity project through an Android firewall called Orbot, while blocking unwanted traffic.
orWall brings full control of how your smartphone uses the internet back to the user, who needs to choose which apps should have their traffic encrypted by Tor and which don't need it. The app also lets voice over IP (VoIP) call apps bypass Tor to send voice data, but still ensure that locations and personal data of the parties on the call remain anonymised through Tor.
Of course, you could always argue that you don't need the Tor Phone if you're already using a virtual private network (VPN) on your Android phone, but Perry points out that Android's VPN APIs are not that secure and can still leak data at boot, and this problem affects Orbot too. But if you put orWall on top of it and root the traffic through Tor, then the traffic definitely can't be seen by prying eyes.

Google should force OEMs to take security seriously
The Tor Phone prototype currently works on the 2015 Google Nexus 6P smartphone, and users can download it onto their smartphones now, but they will need a basic understanding of Linux to get it set up. The developers plan to add support for Pixel soon and are only looking at Nexus and Pixel phones for now as these are the only devices that currently support Verified Boot and user-controlled keys.
Verified Boot is a file security system that uses cryptographic integrity checking to verify that the device's system partition is protected and unchanged by using a public key to verify the signature of the hash, so that malware with root privileges cannot hide itself on the device and make changes to files in order to avoid being caught by malware detection programmes.
"If Google Play is to be used as a source of leverage to solve this problem, a far better approach would be to use it as a pressure point to mandate that OEMs keep their base system updated. If they fail to do so, their users will begin to lose Google Play functionality, with proper warning that notifies them that their vendor is not honoring their support agreement," wrote Perry.
Tor is available for Android by installing  package named Orbot.
Orbot is an application that allows mobile phone users to access the web, instant messaging and email without being monitored or blocked by their mobile internet service provider. Orbot brings the features and functionality of Tor to the Android mobile operating system.
Unlike the Torchat Tor orbot is more efficient and fast.
Follow the Instruction to download tor for you android Phone Click Here
Orbot is available in google's play store
For standard Android 1.x devices:
The Orweb browser available in the Android Market integrates directly with Orbot, and offers a number of other privacy-oriented features.
For Instant Messsaging, try Gibberbot, which includes support for connecting via Tor and Off-the-Record encryption.
For Android 2.x devices:
You must root your device and update the firmware to an iptables-capable ROM for Orbot to transparently proxy all TCP traffic.
For non-modified and non-rooted phones, you'll want to manually configure HTTP or SOCKS proxy settings for specific applications.
If you root your device and install an iptables-capable ROM (such as Cyanogen), Orbot can transparently proxy traffic on an app-by-app basis through Tor.
You can also install Firefox for Android from the market with the Proxy Mobile Add-on or install the text-only "NDBrowser" from the Android Market. Both of these solutions all routing of web access through Tor on standard, un-rooted devices.
For Instant Messaging, try Gibberbot, which includes support for connecting via Tor and Off-the-Record encryption
In a blog post on the Tor Project website, Perry has detailed the process of installing the prototype. At the moment, only the Nexus and Pixel lines are supported. Also, before you think of getting started, make sure that you're familiar with Linux.
Tor has said that the current prototype has many unfinished pieces. In future, the project wishes to add more device support, MicroG support, Netfilter API, reducibility, Orbot stability etc.